Valencia Brass Band By Inel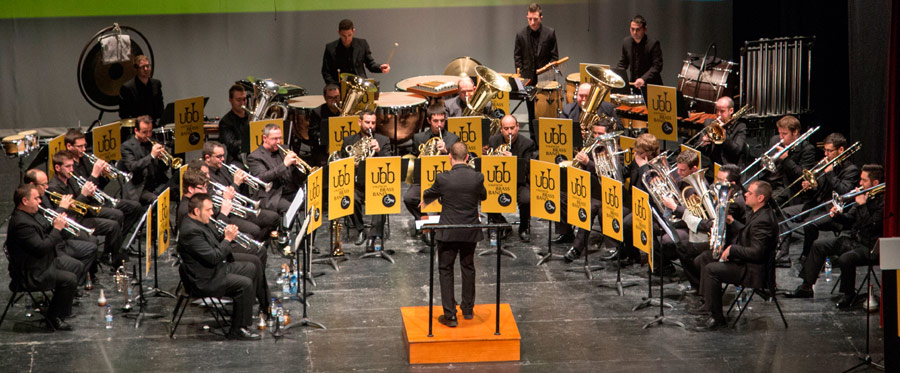 HISTORY OF THE BAND
The Valencia Brass Band by Inel is the creation of a group of professional musicians who wanted to work in an ensemble with a high level of artistic skill. Their aim is to promote the brass band repertoire, which is so widely-accepted elsewhere in Europe and the world, throughout Spain.
Outside conservatories, stable brass band formations are practically non-existent in Valencia and Spain. This is why the VBB by Inel wants to carve out a niche in the Spanish music scene.
The Band, conducted by Enrique Alborch Tarrasó, is made up of 30 professional musicians from all over the Valencia Region who specialize in brass and percussion. Their cultural program is designed to include an annual concert cycle, as well as other activities such as concerts for schools, band exchanges, courses in conducting and performing, and recording.
The repertoire of the VBB by Inel spans all types of music from original works for brass band to the best transcriptions of famous classical pieces, taking in sound tracks and every style imaginable. Consequently, the Band's music is able to attract diverse audiences.
Our Band gave its first public performance in its sell-out "Presentation Concert" on 31 January 2015 in the Ontinyent Teatro Echegaray. Since then, it has performed in various venues around Valencia.
Our plans for the near future include working with all the instruments which make up the original brass band formation in the English style, and also to record a CD of works for brass band by Spanish composers.
The VBB by Inel is a new cultural and professional institution which aims to promote music for brass and percussion in particular, and music and culture in general.

BIOGRAPHY OF THE CONDUCTOR
Enrique Alborch Tarrasó
Enrique Alborch Tarrasó (Castelló de Rugat, Valencia, 1976) began studying music in the music school of the "Unió Musical Benicadell" band in his home town.
He has a degree in Trumpet from the Murcia "Manuel Massotti Littel" Superior Conservatory and a diploma in Band Conducting from the Vall d'Albaida School for Young Musicians, where he was taught by José Rafael Pascual-Vilaplana.
He has also studied Conducting with Jan Cober, Henrie Adams, Eugene Corporon, Enrique García Asensio, José Mª Cervera, César Álvarez, Josep R. Gil-Tárrega and Rafael Sanz Espert. Moreover, he has studied Harmony, Analysis and Composition with Jose V. Asensi, Ramón García, Sixto Herrero, Bert Appermont and Gregory Fritze.
He was principal conductor of the following bands: the "Unió Musical de La Pobla del Duc", the "Ateneu Musical de Cocentaina" and "Agrupació Musical Ontinyent". With these ensembles he recorded various CDs and took part in numerous contests, giving noted performances. Bands from Valencia and Alicante routinely invite him to conduct their performances of his own works.
As a composer he has won or been a finalist in various band music composition contests including those of Bocairent, Sant Vicent del Raspeig, Monforte del Cid, Alcoi and l'Ollería. His music has been recorded to CD by numerous bands and many of his works are published by Omnes Bands.
He is currently furthering his studies in Composition and Conducting at the Vall d'Albaida School for Young Musicians with Ramón García Soler, and at the Academia Allegro in Valencia with Ferrer Ferran. He teaches in a number of music schools and is also an interim teacher for the Valencia network of state conservatories.
He is principal conductor of the band of the "S.E.M. Santa Cecilia de l'Ollería" and Valencia Brass Band by Inel.